OUR FAMILY PRACTICE PHYSICIAN PROVIDERS
PRIMARY CARE IN PARIS TX
Alois Pauls, MD
Board Certified Family Practice Physician
Dr. Pauls received his medical degree from the Universidade Federal do Paraná, Brazil in June of 2007 where he achieved honors in psychiatry, endocrinology, sexually transmitted diseases and tropical diseases. He has done research in the areas of hypertension, aortic dissection, eczema and asthma.
Dr. Pauls completed his 3 years Medical Residency at Oakland Physicians Medical Center, which is a fully accredited Family Medicine Residency Program affiliated with Wayne State University. He graduated as Chief Resident in 2012. He then served as Chief of Medical Staff and Attending Physician at Satanta District Hospital in Kansas until 2017, before moving to Texas where he currently practices.
At Paris Lakes Health Group, Dr. Pauls provides medical services for patients of all ages. He has the experience and expertise to properly diagnose and treat chronic and acute injuries and diseases.
Besides English, Dr. Pauls is fluent in Spanish, Portuguese and German. He is married and has 4 sons. He enjoys a wide range of outdoor activities, especially when it includes spending time with family.
PROFESSIONAL MEMBERSHIPS
American Board of Family Medicine, Diplomate, 2012
American Academy of Family Physicians, 2011
Texas Medical Association, 2017
Michigan Academy of Family Physicians, 2008-2012
Carolyn J. Robinson-Cowley, RN, FNP-BC
Board Certified Family Nurse Practitioner
Carolyn is a Board Certified Family Nurse Practitioner at Paris Lakes Health Group in Paris, TX.  She completed her Bachelor of Science in Nursing at the University of Texas at Tyler and her Masters of Science degree at Texas Tech Health Science Center in Lubbock, Texas.  She is compassionate about taking care of patients and has strong academic training in Nursing, with over 15 years of experience.  Carolyn is a certified BioTE medical practitioner and qualified to administer hormone pellet therapy as a form of health and wellness.  
Carolyn's passion in life is helping people medically, spiritually, and holistically. She is heavily involved in missions work and ministry and enjoys time with family, various sports, and spending time with friends. 
Sydney Peralta, FNP-C
Family Nurse Practitioner
Sydney grew up in Pattonville, Texas and graduated high school from the Prairiland school district. She has two older sisters who are also nurses. She knew from watching them take pride in nursing, that she wanted to follow in those same footsteps. She received her Bachelor's degree from East Central University. She has worked at Paris Regional Medical Center for the past seven years. Four of those years were spent in the Intensive Care Unit. She completed her Master's degree from Texas A&M University in Commerce, Texas.
Sydney completed her family practice hours at Paris Lakes Health Group family practice clinic with Carolyn Robinson-Cowley, and is now looking forward to joining the practice herself. The time spent with the patients of Paris Lakes Health Group helped solidify her passion in helping her community being the healthiest versions of themselves. Sydney and her husband, Arturo, were both raised in the Paris community and now they have two beautiful daughters.
In her past time, Sydney enjoys cooking, reading, and spending time with her family. She enjoys being involved in the healthcare of her hometown.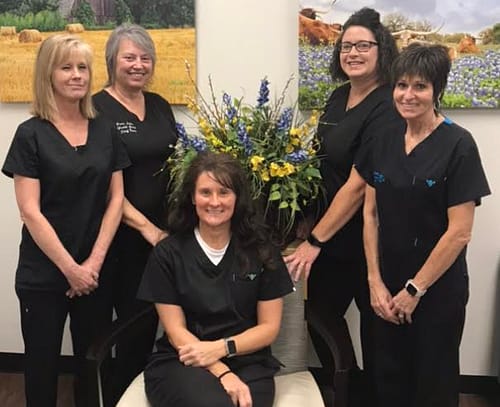 Our Amazing Staff
Our staff members are committed to provide excellent service to all of our patients. When you are with us, we want to make you feel as comfortable as possible while our providers are treating you or your loved ones. You will always get a smile, or a friendly hello from us.